Wired.com's Autonomous Robots Invade Retail Warehouses was a very interesting read, and the Youtube video (below) is really cool. Zappos, Staples, Walgreens and the Gap have warehouses that use robots that pull products to fulfill orders and perform other warehousing chores. In the future, all of your online shopping may have robots on the other side helping manage the fulfillment of your order, and do it faster than conventional warehouses can now.
Wired.com: Robotic Distribution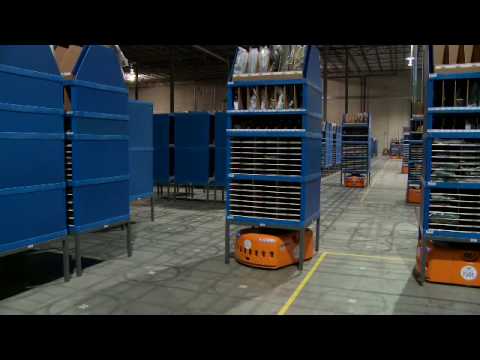 The wifi-networked robots, built by Kiva Systems of Woburn (woo-burn), MA, bring products in the warehouse to human workers. These special warehouses, more densely packed warehousing spaces incorporate interesting workstations where the orange robots bring racks containing products to be shipped. A laser points the worker to the product to be shipped, the worker picks the item up and scans it, and if its the right product the robot takes the rack away, and a light above one of 3 boxes waiting to be filled and shipped indicates where the product goes. The same light also indicates when an order is complete, and ready to be shipped.
Online shoe seller Zappos says their Kiva warehouse has a lower defect rate, higher productivity, plus a better safety record and quieter work environment than their traditional warehouse. You might think that working in an environment like this would require lots of training, but the system actually reduces training time for new workers.
These autonomous robots can also rearrange warehouse stock to place faster selling items closer and moving slower selling items farther away as orders come in. I also thought it was really cool that the robots find time to check their charge level – they run a self-test, check their charge, and if necessary dock with a charging station for some extra juice.
The relatively small space where the workers are needs climate control and lighting, but this is not the case in the majority of the warehouse since the Kiva systems robots don't need either. This translates to a huge cost savings since most of the warehouse can remain unlit and doesn't need to be climate controlled.
For more videos on the Kiva systems robots in action, see the "Press Videos" secion at the bottom of their Resource Library's Video page, or their Demo page (video automatically begins playing).