Halo Wars campaign battle 7-Scarab took me several times to get through, and I'm playing on the leisurely Normal Difficulty. First off I've got a video below from youtube, then 2 hints/tips. Pretty much you are going to fail this mission several times figuring it out.
General Tip: Hide, hide, hide. You will need to keep your units hidden behind structures as the "search light" moves back and forth, stopping only to fire.  There are only a couple of places on the map where you can hide that are not destructible, and you must find them!
Halo Wars Walkthrough – Scarab Part 1 HD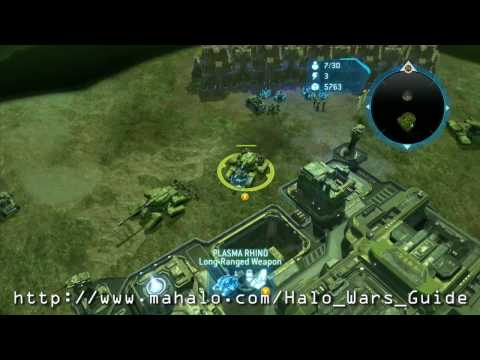 HINT 1: If You Prefer Less Detail To Figure Most Of It Out Yourself
There are 2 main avenues of attack in my estimation, left and right. I didn't totally avoid the center, but I didn't make it a main avenue of travel for my units. As you go through the map you'll find some ways to get the Scarab's attention so you can sneak attacks at the Scarab. One of those ways will draw a lot of the Scarab's time.
HINT 2: SPOILER: Just Give Me All Of The Details
Ok, just scroll down, but there will be no secrets, no surprise, this is a total spoiler.
Note -Winning: This is not the only way to beat this map, and doesn't guarantee success. This is what I used and it worked for me on Normal difficulty.
Okay, build up your Firebase. The game begins with several thousand in resources, but still collect the crates near your base. Below I'll detail choices I made, and beyond beginning by making sure I have 4 upgraded turrets and sending my Warthogs around to collect the crates around the Firebase I won't lay out what order I chose to upgrade.
You start the mission with a Vehicle Depot, an Advanced Reactor and a Reactor. Here are the buildings I chose to add:
Upgraded Turrets (4) –  I tend to alternate them, when upgrading I place an anti-infantry turret (AI) next to an anti-vehicle turret (AV) all the way around
Supply Pads (3) which I later upgraded to Heavy Supply Pads
Barracks
Field Armory

Try to locate and destroy the closest generator as soon as possible. Considering you are a Tech Level 3 from the beginning upgrade all vehicles, and use the Field Armory to increase turrets to medium (large if you have excess resources), reinforcements to get higher population, reserves to train units faster and adrenaline. Upgrade the Warthog all the way to Guass Cannon, and upgrade the marines up to Medic.
I didn't use Flamethrowers, and you can't upgrade your MAC gun, nor your base (yep, no Fortress).
Wherever the Scarab's "search light" is, work on moving your units on the opposite side of the screen.
ON THE RIGHT
To the right is the closest generator. Get some units close enough then blast it with the MAC Cannon and you'll understand why I consider these more than an *optional* objective! Mix your units to deal with various enemy units you will encounter – warthogs, tanks, marines, cobras and wolverines are recommended as a minimum.
ON THE LEFT
You can place units at a distance and attack the first generator on the left and make the enemy come to you – if you use one of the 3 special tanks you begin with and/or the cobra. Again mix your units (at least one of each, minus Flamethrowers because I just passed no them).
LOOK AROUND
Look around the map for hints as to where the generators should be. Watch for lower visibility areas where the Scarab's field of vision is more obscured. Avoid being seen by the Scarab's "search light" and it will be less likely to destroy the structures you want to hide behind!
MAGIC TOWERS?
I remember at least 3 sniper towers, and the one in the center seemed magic when I placed fully healthy marines in it (maybe their health doesn't matter?). When I did that the Scarab's "search light" saw them and kept shooting, but evidently the tower is magic and causes the Scarab's beam to shoot harmlessly at the base. At this point I have moved up both sides and taken care of the enemy units there, and making sure I had wolverines for AA backup I simply sat my tanks and cobras off to the side and attacked. The Scarab seemed bent on killing those marines in the center tower and ignored my other forces on both sides altogether. As often as possible I hit it with the MAC Gun and special attacks from the tanks and cobras until the Scarab was destroyed.