After the first time I my Halo: Reach disc in and watched the opening video I was not disappointed. Afterward when the game began and I was in the Armory I spent time carefully choosing my armor to gain maximum fighting advantage, probably close to 30 minutes. I didn't realize that the choices you make in the Armory have no effect on the battlefield – its a visual effect, unlike Armor Abilities.
Later, I was getting ready to play with my daughter, so I had her sit down and read through the Bungie site's telling her that
she had to get to know how the armor worked (The Armory, Credits & Rank, and Customization) so she could choose better equipment, but I didn't know I was mistaken because armor in Halo: Reach (and other Halo games) is only for visual effect.
ARMOR IS A VISUAL EFFECT
Beginning with Halo: Combat Evolved, the Halo franchise has immersed its players more deeply into their created worlds using rich and visually striking graphics, scenery and detail. This detail includes your armor, which allows you to customize your Spartan or marine.
ARMOR ABILITIES WORK ON THE BATTLEFIELD
Jet Pack | Sprint | Holographic Decoy | Active Camouflage | Drop Shield | Armor Lock | Evade
Where the Armor choices you make in the Armory effect

your character's appearance in Halo multiplayer, the Armor abilities you choose actually have an effect on the battlefield.
Jet Pack – you can fly
Sprint – you can run
Holographic Decoy – you get a digital double – you appear to be 2 targets to your enemy
Active Camouflage – you have limited invisibility
Drop Shield – you drop a spherical bubble shield (remember Master Chief using one in the Halo 3 Trailer?) which heals you and your Allies inside
Armor Lock – heal your shields, get rid of grenades stuck to you, hit 'em with an EMP
Evade – just watch one of the Elites' agile bounding around the battlefield for a demonstration of the Evade Armor Ability
Armor abilities are activated or toggled by using LB (in default controller configuration). Jet Pack Tip (I can't remember where I saw this one, but it works): look straight down when you activate this ability and then run forward as the decoy would – you will fool some Covenant into thinking you are the decoy.
IGN on YOUTUBE: Halo: Reach – Hot Armor Ability Tips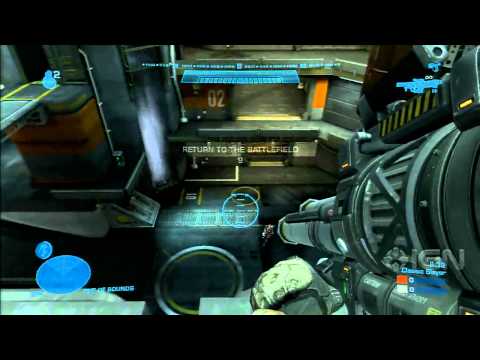 MORE ON HALO: REACH ARMOR
Bungie – Armor Abilities
Halo.Wikia.com – Armor Abilities