Mobile Computing
The Marware Screen Protector for the Kindle Fire is worth its cost considering the alternative of leaving your Kindle Fire's screen unprotected. At under $20 as of the writing of this post, the Marware screen protector is worth buying to protect your $200 Kindle Fire's screen since its useless without a screen! Protect your investment.
As part of my recent purchase of the Kindle Fire I got a free month of Amazon Prime
service, which saved me $7.00 off of the screen protector, so if you have an Amazon Prime membership or if you got a free month with your Kindle Fire purchase take advantage of the savings.
Installing the screen protector consists of peeling 3 layers of plastic and leaving the adhesive side of the center layer on your Kindle. The video below will probably save you a lot of hassle trying to figure out how to get it right the first time so you don't waste your second Marware screen protector.
Easily Apply the Marware Screen Protector for the Kindle Fire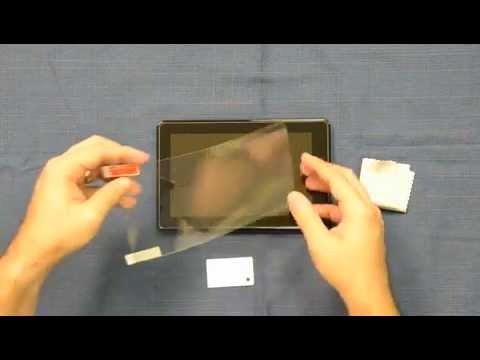 Amazon Response: Cleaning Kindle Fire Screen
How do I clean my Kindle Fire screen? This was the simple question that resulted in this post.
Searching the Amazon site and doing some googling came up with too many unuseful answers, so I took another trip through the included Kindle Fire User's Guide. The (partial) answer is in Appendix A under Maintaining Your Kindle, and I think still requires some due diligence through the Amazon site for a 100% answer. To find this, open your Kindle Fire User's Guide and in the table of contents move to Appendix A and click Product Information.
More >
Back in May the Motorola Atrix 4G caught my attention with its commercials. I think its pretty cool to have a computer that I could put into my pocket and carry around with me, and also use as a phone.
Of course. Motorola approaches it a bit differently. they picture a phone that can also be used as a computer.
Fast forward to today I'm back writing about Motorola 4G phones, but this time its the Motorola Photon 4G. Watching the commercial, which was slightly reminiscent of the Atrix commercial I just kept waiting, and waiting. For what? I kept waiting to hear (or see) how Motorola had improved upon the Atrix 4G with this new 4G phone. However, it seems they've gone the other way and instead of taking the Atrix and improving upon its computing features, its more like they removed most of its computing features, except for the WebTop. More >